We travelled up to Scotland in July 2011 to join the field of 40 declared runners for the event.
On the way up we were optimistically hoping that our wooden effort would be capable of getting into the top 20 carts... After walking around the car park to see the other bogies, this changed to "Let's not come last" !
Our first test run showed up a massive flaw in the steering. 'Any' play became 'Too much' play !. We quit qualifying after the first run and sought out a welding facility where our steering column could be welded into one piece thus taking the play out of the bolted joints.
Steering corrected, we started off gingerly in the head to head racing. It would be true to admit the bogie was indeed superior to the driver, but against the odds, we managed to come 14th overall - flattering us somewhat.
So what next ?
We had now met several of the gravity racing community and heard that the event at Dalby Forest shouldn't be missed. We spoke to the organisers and secured a place there.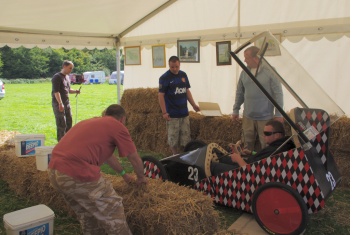 Improvements had to be made to the cart... I added a motorcycle steering damper at the end of the steering linkage - As seen on several bogies at Carirngorm. I also invested in two new wheels, constructed using 20mm straight through mountain bike hubs built into 20" BMX double wall rims.
Since I was using 14mm axles, it was decided to remove the forks and go for single side mounting of the wheels. This also meant the purchase and fitting of two disc brakes at the rear.

Seen here going through scrutineering...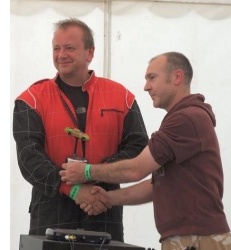 Another addition to the team was getting Scott to drive as well as myself - this would, I hoped, stop me 'Whimping out' and blaming the cart - I knew he wouldn't !
Our times actually improved on every run during the weekend, and whilst we didn't trouble the winners, we felt happy with our performance. To cap it all, we received our first ever trophy - "Best turned out".
We were 'Well chuffed' !
At Dalby Forest, we heard that Screwfix were holding an 'Off-Road' bogie championship...We managed to get a late entry into the regional heat at Shropshire...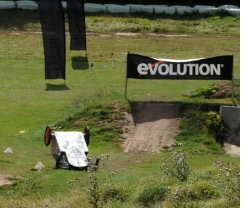 The racing started badly when I managed to roll the cart, giving us our first ever DNF and crash on our first run .. !
However... I managed to change the damaged wheel for a spare and Scott was unstoppable in the senior event, with son Dominic winning the junior event by some margin.
This gave us qualification into the finals in Scotland. Further modifications were required. I had noted that we needed bearing holders on the wheels - they were coming adrift !
We were once again up against experienced teams, Scott came 5th in the senior event with Dom taking 2nd in the junior class.

This ended the racing for 2011...
Late in the year I saw a gravity racer for sale on ebay and bid for it. We won the auction. The cart needed massive modifications to bring it up to spec' but seemed a good winter project.
I changed all four wheels, the complete braking system. I modified the top of the chassis to allow me to fit into it ! I also wanted to fit a canopy...
The 2012 season was fast approaching, and rather optimistically I entered "Where's me spanners ?" into the Scottish Cartie Association championship.
Due to unforeseen circumstance, the new cart wasn't ready for the first run of the 2012 season at "Border Bogies". But we had used it's trailer to take WMS I to the event. I elected not to drive at all, letting Andy and Dominic take two runs each down the hill. We weren't too quick, but things could get better. At least the cart seemed easily controllable.
Catterline was another SCA event. Andy and myself took the cart up to Stonehaven to enter. We had a minor hiccough when Andy caught an obstacle under the cart on run two - but we picked up more championship points due to others having similar problems with the course.
Then to Cairngorm extreme 2012. The new cart was almost ready, but I took the tried and tested WMS I - Now nicknamed "Stacy's Mum'
There was 'Unfinished business' to attend to with our wooden soapbox... I had designed and expected it to exceed 50mph... here was its chance. Despite the heavy rain we achieved this milestone on practice run #2. Inexperience of head to head gravity racing saw me over brake to avoid a collision and come third in our second heat... (Should have simply driven around the problem ! ) This would relegate us down the rankings. Hence I decided to let Dominic take over driving duties giving him experience of head to head racing for the first time.
The event was marked by a spectacular crash involving two of the fastest carts during the final. This ruled out the favourite for the SCA championship... They would be unable to run in the Annandale event the next day.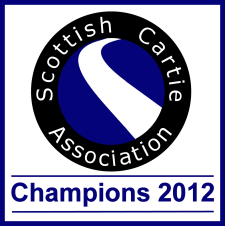 The Annandale cup was run through all weathers possible ! - Bright sunshine, hailstone, biblical rain then sunny again ! This made runs once again difficult and saw us pick up more points due to dogged determination to run every heat and finish every heat...
In fact, a look at the score card showed us to have indeed amassed enough points to pick up the SCA Cartie championship ! - Now that was an outcome we'd not seen coming a few months earlier !
It was a great drive home to Charlesworth with the wooden bogie... Knowing it had done it's job and could retire on a high.

Our next event was Belchford 2012...
We had hitherto not entered this event. I had thought the chicanes too severe and had seen (Via Youtube) several really great soapbox racers end their days here... However... I now had cart #2, why not have a last blast with cart #1...
We had three safe runs, all without penalty and recorded a sub one minute run... Not bad for a wooden box built in my garage... And since the race didn't run in 2013, I was really glad we had been there.
Two cart family...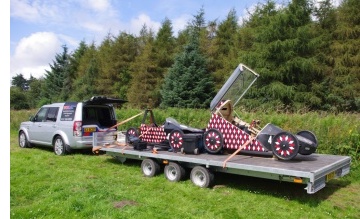 It was time to let cart #2 have a go... Dalby Forest 2012.
Once again this was a fantastic event spread over two days. The course and campsite is set deep within the forest making 'off-site' staying in a hotel not really feasible. Jules wanted to come along, so we hired a deluxe mobile home for the weekend !
Scott returned to driving duties, so Scott, Dom and myself took turns each driving the two carts with one driver being crew for each run.
Thankfully cart #2 proved to be far quicker than the old wooden box, its full suspension really helping out.
It wasn't even set up correctly, so it gave high hopes for the future...
2013 was a year of cancelled races - the Catterline course fell into the sea during a storm ! - Cairngorm was deemed too dangerous... Dalby wasn't going to happen, Belchford a none starter... A new event at Drumlanrig was cancelled at the 11th hour...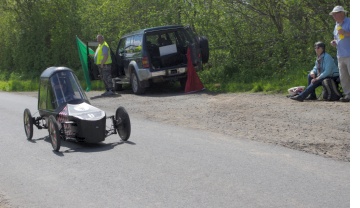 First event - Border Bogies 2013...
The cart had it's full canopy and was well set up...
Two film crews were here... One was for 'Dave' filming a hopeful crew entered in the Red Bull event to be held at Alexandra Palace. Their filming saw the first television appearance of the "Where's me spanners ?" team as they filmed me coming towards the finish as the commentary was talking about Spitphya's chances in the event... "And they've realised they just may be a bit off the pace... "
It was easy to see I was driving and not Dom as the bogie was running ... i.e. not upside down...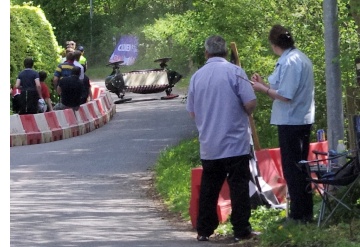 Dom had the most spectacular crash here... (Video available !)
I had set quite a decent time on the first run, which had been encouraging, but now... No canopy remaining, cart all smashed up and bent... set up knackered... Back to square one...
And team Spitphya ? - They were completely out gunned for speed against the 'Real' racers here... But with their fantastic bodywork in place, they went on to win the Red Bull event !
Event 2 - Hawksland Hill...
Unusual this one - they don't time the bogies... You run down one hill and as far as you can get up the other side ! Only two 'Real' soapbox racers pitched up, though the locals were still impressed with them - they'd never seen a 'Serious' gravity racer before. In the event, we were still running with wheels out of alignment, seeing us a poor second to Team Rooket. This pretty much assured them of the SCA championship for 2013.
Our next trip out was to Worlaby. They had run a smaller event in 2012, but now with an extended course it was hoped this could be superb... And so it turned out to be !! We made a pretty good effort here, coming well up the rankings - it may have been better had not Dom decided to have another 'Off world' adventure - Not so dramatic - the cart was easily fixed and I set our fastest run after his spin.
Final event for 2013 - Brechin.
Part of the town's Halloween celebrations, this was a fantastic event that not even the miserable weather could spoil. The course runs straight down the High Street. This too had seen an extension from the previous year and benefitted massively from it.
We finished being placed third fastest from the long list of entries. Beaten only by 'Team Rooket' and 'Centa Bavaria' - No shame in this - In fact, given their presence, I had assumed we were fighting for third place with all the other entries - some of which looked genuinely serious contenders for the future...
So what for 2014 ?
I'd really like to crack on with the design and build of cart #3
For 2014 onwards... Click here